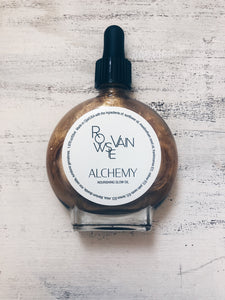 Alchemy Nourishing Body Glow
Regular price
Sale price
$44.00
---
Nourishing Glow Oil
al·che·my /ˈalkəmē/ (noun)
a seemingly magical process of transformation, creation, or combination; It was concerned particularly with attempts to convert base metals into gold or to find a universal elixir.
A supreme shimmer unlike any other golden glow. Potent plant magic blended into sunflower oil and meadowfoam seed oil. Top notes of earthy frankincense, and vetiver. Sweet and uplifting base notes of lemon and palo santo.
And not just a pretty face, with base plant oils of sunflower and meadow foam seed oil, ALCHEMY has a super rich and hydrating application, beautifully absorbs into the skin, leaving skin moisturized and glowing throughout the day.
INGREDIENT SPOTLIGHTS:
Meadowfoam Seed Oil (Limnanthes Alba) is an antioxidant powerhouse known to offer significant natural UV sun protection and repair of sun damaged skin along with restorative and restructuring skin benefits. Meadowfoam compounds prevent the UVB rays from damaging the DNA of skin cells, thus preventing sun-induced aging, dark spots, premature fine lines and wrinkling. It's also super hydrating, has a long shelf life and can help to extend the life of other ingredients it's used with.
Vetiver helps skin appear firmer and more youthful, helps to reduce the appearance of dark spots, discoloration, helping to create a more even skin tone. But the benefits don't stop there. Vetiver oil is nourishing and hydrating, helping to soothe dry skin and skin ailments such as psoriasis, eczema, and rosacea.
INFUSED WITH SUNSTONE or TURQUOISE STONES
Sunstone clears and cleanses the chakras, restoring joy and nurturing the spirit, stimulating leadership and will, creativity and sexuality. Gold energy in Sunstone brings success, enthusiasm, happiness, and power.
Sunstone carries the energy of the sun god, whose energy brings all potential life from within the Earth. Sunstone provides a source of strength if you are dependent on others emotionally, or have suffered the sudden loss of a partner. It helps alleviate fearfulness and stress, and protects against those who drain your energies or finances.  Sunstone helps one receive what is needed and desired.
Made in Ojai/USA with the ingredients of: sunflower oil, meadow foam seed oil, frankincense EO, vetiver EO, palo santo EO, lemon EO, mica, titanium dioxide, iron oxide, infused with sunstone or turquoise stones. 55ml.
DIRECTIONS FOR USE
Gently shake to blend the contents prior to application. Apply as desired to skin, hair, or any area that needs an euphoric highlight, glow, moisture and scent.
When the mica settles apply it without the shimmer to your face as a facial oil or an everyday scented moisturizer.